Recommended restaurants in the Port of Sóller
Check here our restaurants selection in Sóller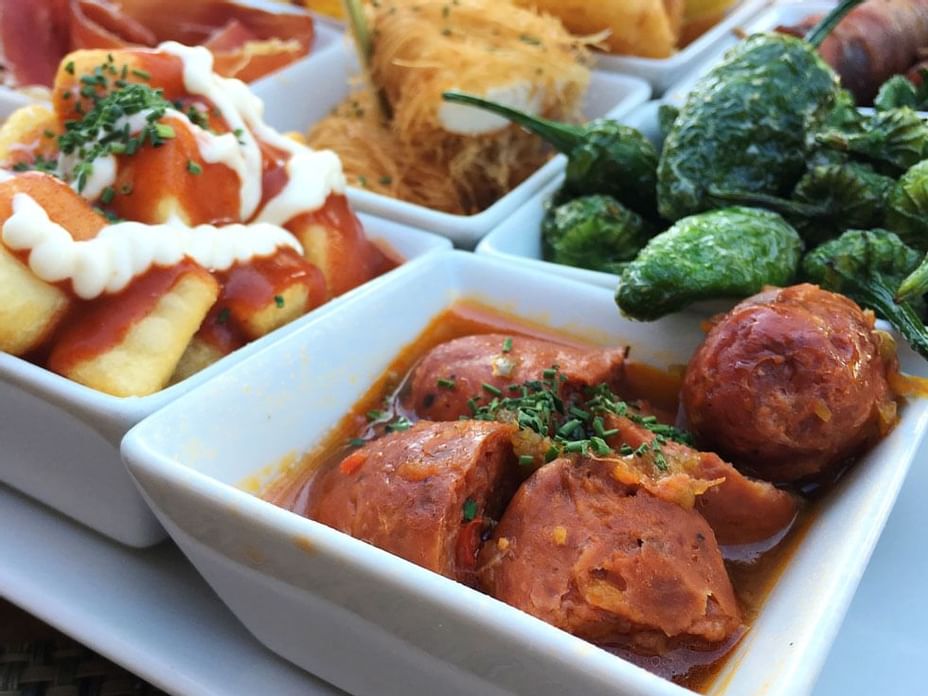 Here we have the pleasure of showing you our best recommendations for dining in the Port of Sóller.
Please do not hesitate to contact us to help you to book your preferred restaurant.
Airecel
Our first suggestion is the restaurant from Hotel Aimia. The culinary style of chef Lucas Carrusca and his team combines traditional Mallorcan cuisine with Mediterranean influences to offer our guests an extraordinary gastronomic experience. We recommend trying the menu of suggestions for dinner where the seasonal produce is the star.
airecelrestaurant.com
+34 971631200
Airecel map
Las Olas
Sea views restaurant with Mediterranean cuisine. They make one of the best paellas in Sóller.
restaurantelasolas.net
+34 971632515
Las Olas map
Nunu
A la carte restaurant of Mediterranean cuisine with wanderful views of the sunset in front of the sea.
nunurestaurant.com
+34 971632749
Nunu map
So Caprichos
They have a la cart menu with mediterranean cusine with a big terrace.
Its specialty in grilled and stone meats,
socaprichos.com
+34 971630095
So Caprichos map
Es Passeig
Small and cozy restaurant by the sea. Its menu features local and seasonal produce. Mediterranean and international cuisine.

espasseig.com
+34 971630217
Es Passeig map
Agapanto
Located at the beachfront, in an intimate and quiet corner, this restaurant offers a different experience overlooking the bay. The menu has Majorcan and Mediterranean influences.
agapanto.com
+34 971633860
Agapanto map
Randemar
Situated in one of the most privileged areas of the Port of Sóller within an old Mallorcan manor house on the seafront and with views of the majestic Tramuntana Mountains and the Mediterranean. It has a private terrace and garden. They serve seasonal Mediterranean cuisine with a variety of vegetarian dishes.
randemar.com
+34 971634578
Randemar map
El Sabor
Mediterranean cuisine and tapas overlooking the bay. Calm and familiar atmosphere.
elsabor.com
+34 971638284
El Sabor map
Puerto de Sóller, Islas Baleares, España Puerto de Sóller España