Sail by boat from the Port of Sóller
Sail along the coast and enjoy Sa Calobra, Sa Foradada, Cala Tuent. Excursion from Puerto de Soller to Cala Sa Calobra, Mirador de Sa Foradada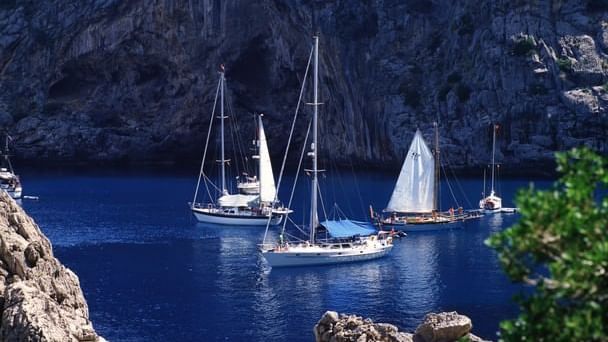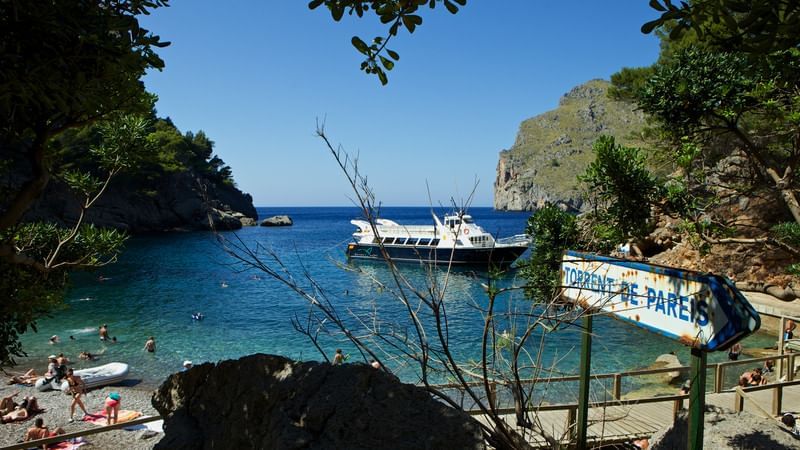 Sail along the north coast of Majorca and enjoy all the water activities it has to offer.
From the Gran Hotel Soller we propose several routes to discover in a day trip the most beautiful places on the coast of Mallorca, among which are Sa Foradada (a small peninsula with spectacular views), Sa Calobra (with its beach called es Torrent de Pareis as it is the mouth of a torrent and is located between cliffs and the other rocky beach that you will find just on arrival by boat) and Cala Tuent (a cove protected by the mountains and surrounded by nature and pine forests).
Below, we show you in detail how to get to these locations and some of the activities you can do in them to make your sailing day unforgettable:

Sa Foradada
To reach the Foradada peninsula, in addition to the usual hiking routes, there is the option of sailing to it and enjoying a unique day in the Mediterranean Sea. To do so, we suggest you rent a boat in Port de Soller with Soller Charter Experience.
From Port de Soller you can enjoy breathtaking views of the coast and the mountains, and reach the Sa Foradada jetty. This is a very interesting place for snorkelling, if you are fond of diving, as there is little wind due to the cliffs that protect the enclave and the sea is usually calm and calm, especially in the summer months.
In Port de Soller itself you can find a diving and snorkelling equipment rental centre, Octopus Diving.
For lunch, moreover, in Sa Foradada you can find a local restaurant that is only open during the summer season: Mirador de na Foradada, specialising in rice dishes, seafood and Mediterranean cuisine.
Sa Calobra
To enjoy an excursion to Sa Calobra and its famous Torrent de Pareis it is ideal to do so by boat, as the route by car is somewhat complicated due to the narrow roads and sharp bends.
Sa Calobra, a natural enclave that crosses the Serra de Tramuntana, stands out for its lush forests and its Torrent de Pareis, a torrent that flows into a secluded beach with turquoise waters and rocks where you can swim and relax (the peculiarity of the beach is that outside it is made of bales of rock and inside in the water it is a sandy beach).
The boat trip takes about an hour. Barcos azules has a large fleet of boats that leave from Port de Soller to Sa Calobra every day in July and August (daily departures at 10:00 and 11:00 and return at 16:00).
Tuent Cove
Barcos azules also offers a trip to Cala Tuent, a small pebble cove in the heart of the Serra de Tramuntana. Its small jetty and wild nature are little treasures of the island that you cannot miss.
The boat trip there takes about 50 minutes and has daily departures (although prior reservation is necessary).

But if what you fancy is a quiet day on a boat, with no other intention than to enjoy the sea and, perhaps, the beautiful sunset, you can enjoy one of the most impressive sunsets in Mallorca with Sóller Charter Experience. This offers us the Charter Sunset Experience: a boat with daily departures from Port de Soller, from 20:00 to 21:30 to toast with friends or family while you enjoy the views of the bay of Port de Soller and the sunset.

At the reception of the Gran Hotel Sóller we will be delighted to advise you if you need any information about these excursions and we will help you to organise them so that everything goes perfectly (timetables, prices and routes). We will also be pleased to help you if you have any questions about any activity or centre of interest you wish to visit in Sa Foradada, Sa Calobra, Cala Tuent and Cala Deià.