PORQUERES. A MALLORCAN TRADITION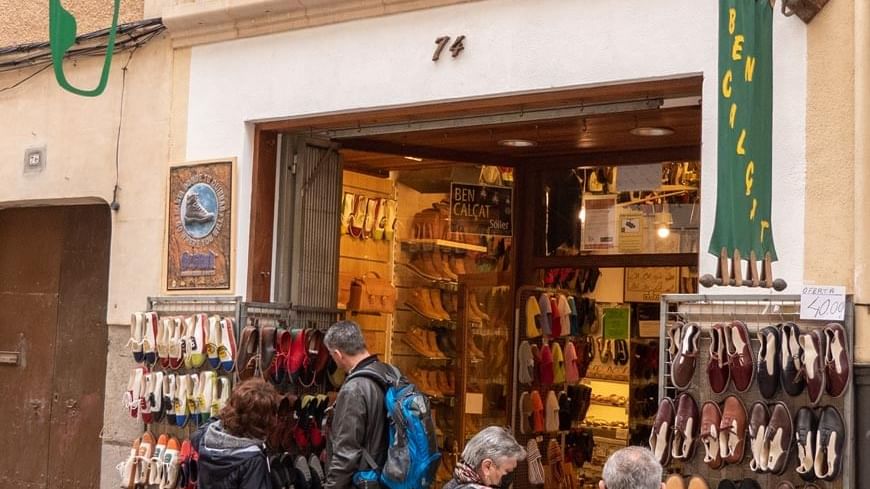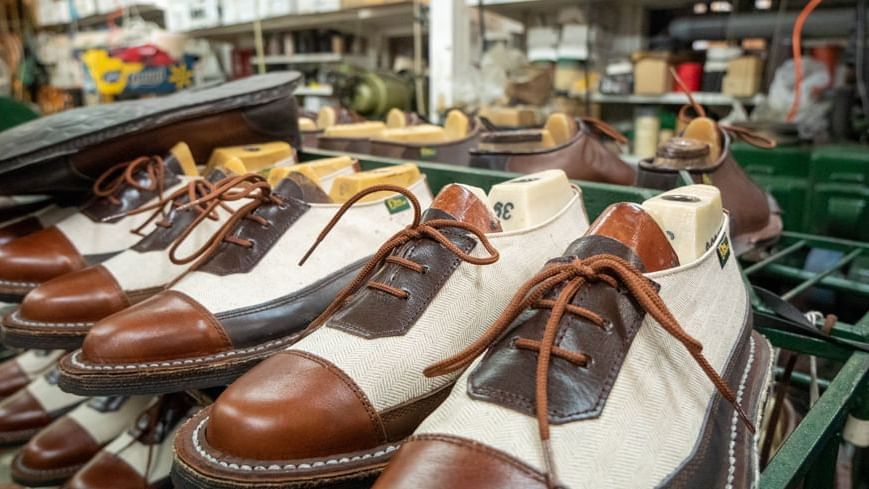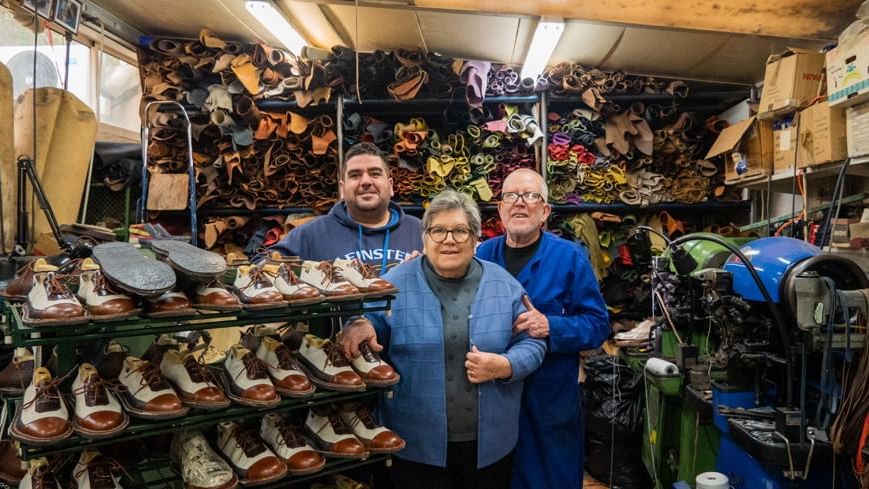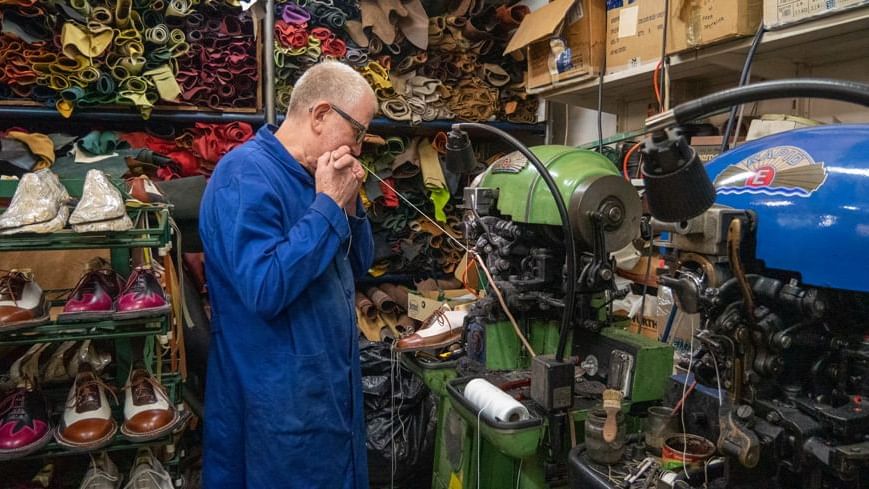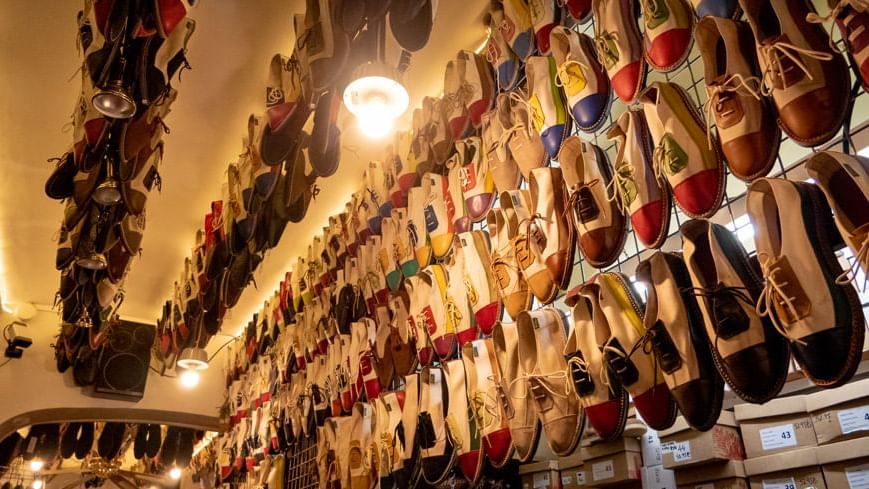 One of the best things about travelling is, without a doubt, being able to get to know the true essence of the destination you are visiting. Getting to know the local people and their daily life, the tradition, the history and those places that, without knowing beforehand, become a fantastic and unforgettable souvenir of our trip. For all these reasons, today we propose a perfect plan in a very special place to discover one of the most traditional and typical products of Mallorca. The Ben Calçat factory of porqueres and typical Mallorcan footwear.

Porqueres are Mallorcan shoes made with rubber soles and natural leather that were formerly used to work in the fields. Legend has it that they originated with a poor Ibizan who came to Mallorca and whose shoes broke. As he did not have the money to buy a new pair, he took an old car wheel and a piece of canvas and made the first "porqueres". Since then, this typical footwear has been marketed with great success, but today there are only three artisan workshops that continue to make them. Among them is Ben Calçat, which has been able to adapt this fantastic footwear to the present day, making porqueres with much higher quality materials, finer and with an infinity of colours and designs, going from being just a shoe for work to being an authentic piece of fashion to wear on a daily basis and even to dress up.

We will start our visit from the Gran Hotel Sóller itself and walk to the Plaça Constitució, located 2 minutes away on foot. There we can enjoy the local atmosphere of the Sóller Valley, discover the Parròquia de St. Bartomeu, the Banco de Sóller or the Cases de la Vila. Once here, we recommend that you stop at one of the many bars in the square, watch the tram go by, and enjoy the atmosphere of the centre of Sóller. Afterwards, we will enter the heart and soul of the town: La Calle de La Luna. This is the most commercial street with the largest number of local shops in the municipality.

Entering it from the square you will find an infinite number of local shops selling both foodstuffs and typical Mallorcan objects. It is well worth taking a leisurely stroll along this street, feeling the atmosphere and meeting the local people, who do a lot of their shopping here. We will walk in the opposite direction to the main square until we think we have passed the shopping area. However, this is not the case, and just before the Can Prunera Museum of Modernist Art, we find the typical Mallorcan shoe factory Ben Calçat.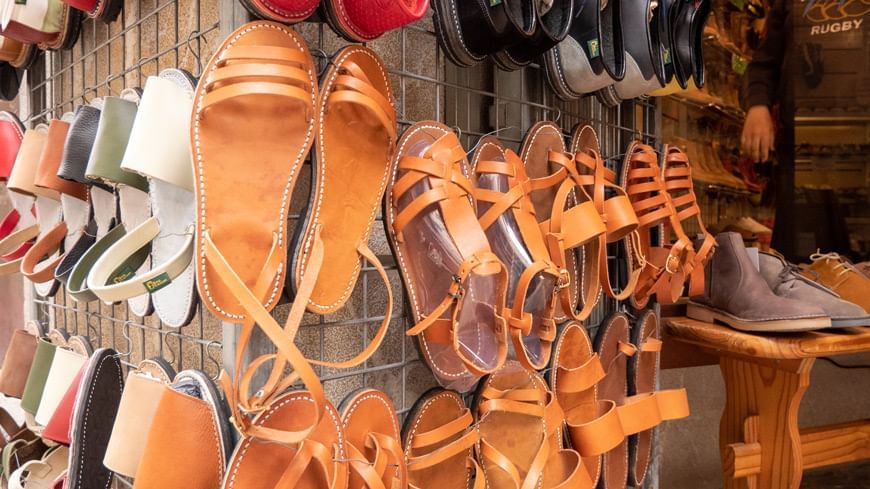 Entering the factory is much more than just entering a shop. Opened in 1975 by the Mira family, they started out making belts, bags, baskets and sandals, but later they focused on making Mallorcan footwear. Thus, Ben Calçat has been making 5 types of shoes for more than 30 years: Porquerres, Albarques, Bota Mallorquina, Patatera and Frailera. Each one of them has its own particular history that we can tell if we ask Paco, Maruja or Jaume, owners and craftsmen of the factory. However, there is another shoe that after many years of not making them, they have incorporated them back into their production: the Paco Mira leather sandals. Each one of them is a unique, special piece and has unique details such as the signature of the craftsman himself. Undoubtedly, sandals that transmit the essence of Mallorca and tell its history.
Once inside the factory you will want to take out your mobile phone and take photos, as you will be surrounded by countless pairs of handmade shoes with an infinite number of designs styles and colours. And it is here that we will discover that we are in front of what will be a fantastic and unforgettable memory of our trip to Mallorca. A unique privilege that we can only experience in Sóller thanks to one of the island's latest talle- res.

Once we have taken the photographs, we can choose the pair of shoes we like best and try them on. It is worth mentioning that at first they may seem a bit hard, especially the porqueres, but at Ben Calçat they have adapted their production to modern times and have made their pieces with high quality materials and much finer leathers, which means that, unlike their beginnings, these shoes are now much more comfortable and even a perfect option for everyday wear. Proof of this is the local people, who choose these shoes not only on a daily basis, but also for one of the most special days for the people: the day of the Firó. You can consult another article in which we talk about the Fiestas de Sa Fira i Es Firó, but I'm sure you already know that this is the most important festival in the village, celebrated every year on the second Monday in May. A historical festival that recreates the invasion of Turkish and Algerian corsairs in the port of Sóller on 11 May 1561. A festival enjoyed by all the inhabitants of the town, who dress up in traditional clothes for the occasion and, indeed, in Mallorcan and handcrafted Ben Calçat footwear.

So if we want to take a little piece of our trip to Mallorca, of its history, its tradition, its culture and its people, one of the best ways to do it is to visit this artisan factory and take our handmade shoes with us in our favourite colours. Comfortable shoes that transmit the Mallorcan essence and that, if you return to Mallorca, you will want to take another pair back with you!

Part of the essence of travelling is getting to know the history of the destination, its tradition and its people. And in this case, artisan people who have been making Mallorcan shoes by hand for more than 30 years with recycled tyre soles and conveyor belts like those at the airport for the soles and high quality leathers and threads in an infinite number of colours to, with great effort, keep the Mallorcan tradition alive by opening one of the last 3 artisan and typical footwear workshops on the island of Mallorca every day.

After visiting the Ben Calçat factory, we will head back in the direction of the Plaça Constitución for a pleasant stroll. When you reach the square, we suggest you go up to the Sóller Railway Station, a 2-minute walk from the square itself, to take some nice photographs of the place and get to know another pleasant little square in the centre of Sóller: the Plaça d'Es- panya. Afterwards, we can have an aperitif in one of the many cafés in the historic centre of Sóller before going for lunch and completing our visit with a fantastic meal with fresh, local and high quality products such as in Can Blau Restaurant, located inside the Gran Hotel Sóller itself! A perfect plan to get to know the essence and tradition of the place. If you are staying at our hotel, do not hesitate to ask for more information at reception about this fantastic visit to discover the essence of Sóller.
INFORMATION OF INTEREST
| | |
| --- | --- |
| Duration: | 2 hours approx. |
| Ben Calçat Winter opening hours | 09.00 to 13.00h - 16.00 to 20.00h |
| Ben Calçat Summer opening hours: | 09.00 to 20.00h |