We are opening again on the 14th of May 2021
Fancy a break from the Covid routine? Visit us at Gran Hotel Soller!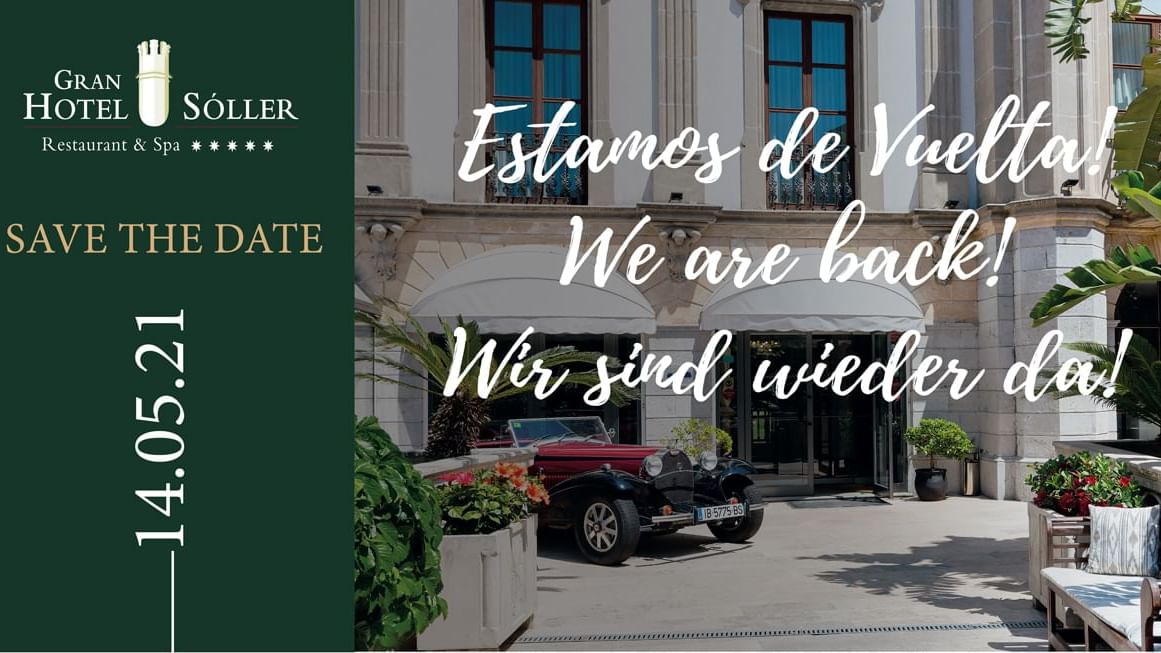 Dear Guest,
We are truly pleased to inform you that we will open again our Gran Hotel Soller on the 14th of May 2021.
It was not easy to be so long without you and we missed you so much that we are now taking this opportunity to have the chance to welcome again our guests.
We know that the crisis caused by the Coronavirus is still not over, and it will probably last a while longer. Many of you will sadly not be able to visit us yet due to some countries restrictions, however we believe that many of you will need to get away from this stressful daily routine that the Covid-19 crisis has imposed on us and you can count on us.
Luckily we are located in a privileged destination such as it is Sóller and the Tramuntana Mountains Range, one of the less crowded corners of Mallorca where you can do plenty of Outdoor Activities, such as hiking, cycling, tennis, golf, diving and much more. All these activities also have the great plus of not being subject to many restrictions as for the indoor activities, so you will have the chance to go to the beach or on the mountains, without having to put on a mask the whole time.
Please visit the section on Covid-19 that we have prepared for you on our website, there you will find our safety measures to prevent contagions in our hotel, as well as practical information provided by the Tourist Office of Mallorca that will help you plan your trip to Soller with more peace of mind.
We also have launched a Special "Reopening Offer" exclusive for bookings through our website with a 15% on our Flexible Rate ( BOOK NOW ).
Please do not hesitate to contact us for any assistance that you might need, it will be a real pleasure for us to assist you.
Best Regards from Sóller

Flavio Mirabella
Director of the Gran Hotel Soller