VISIT TO THE SAUSAGE FACTORY LA LUNA
MALLORCAN TRADITION AND GASTRONOMY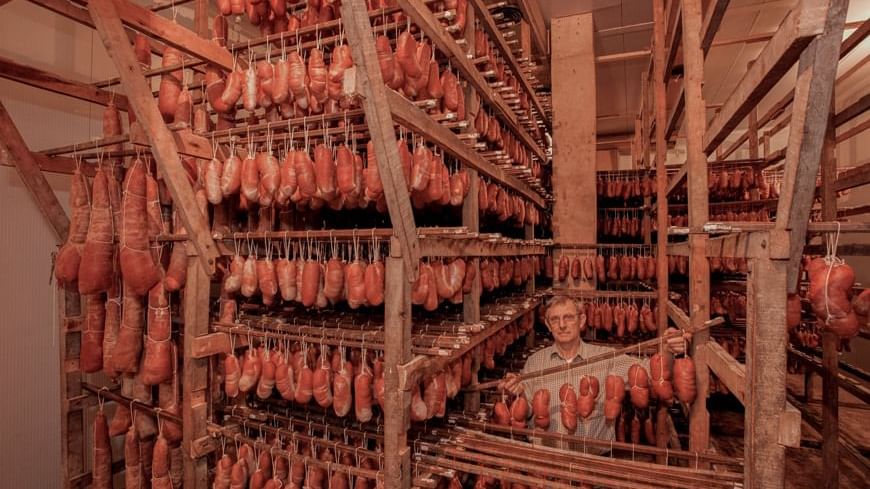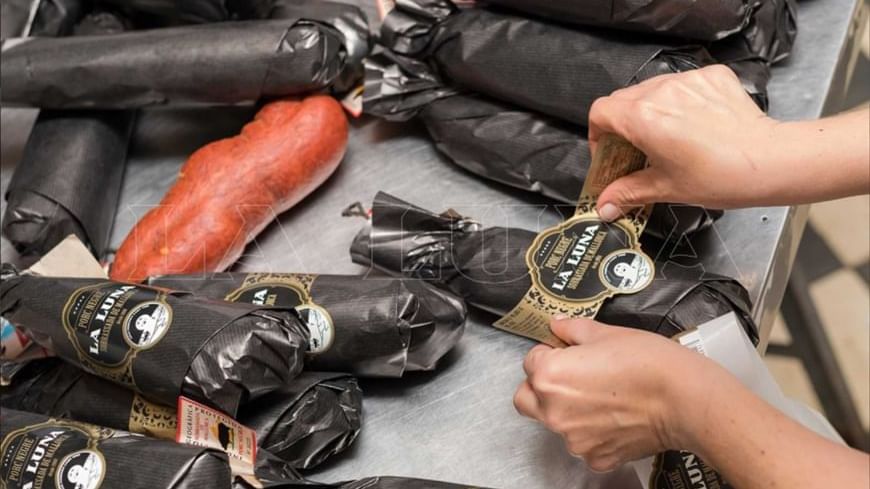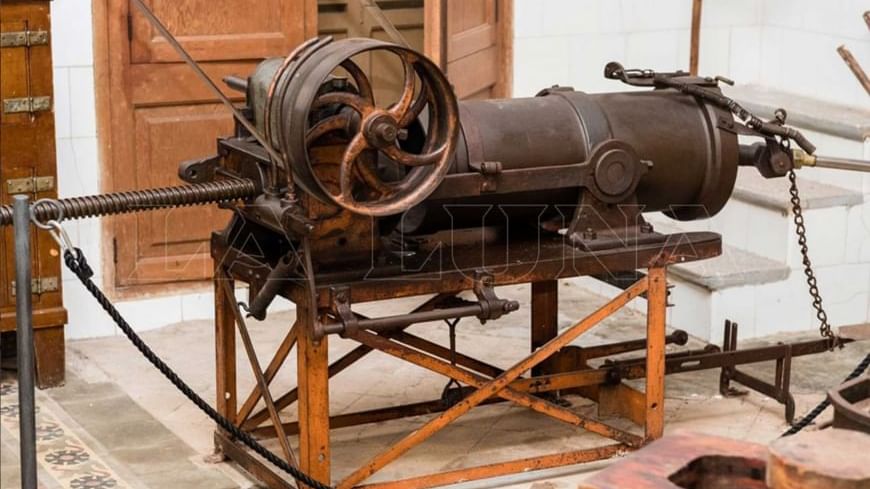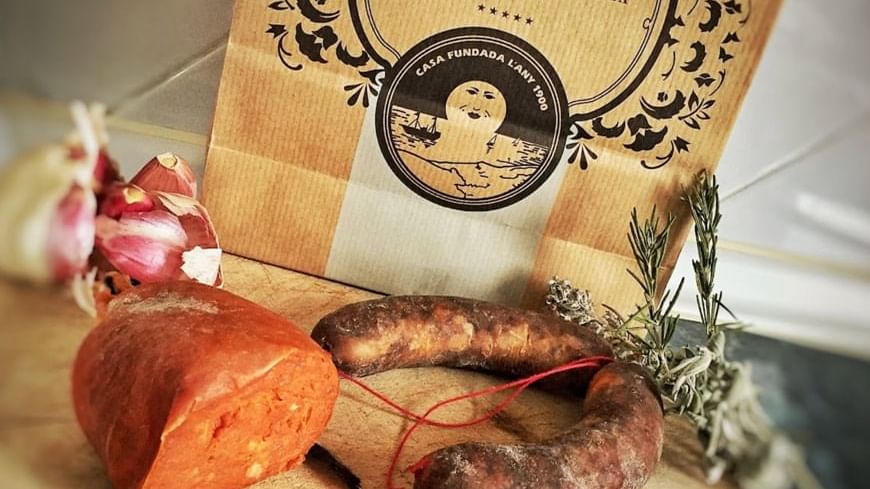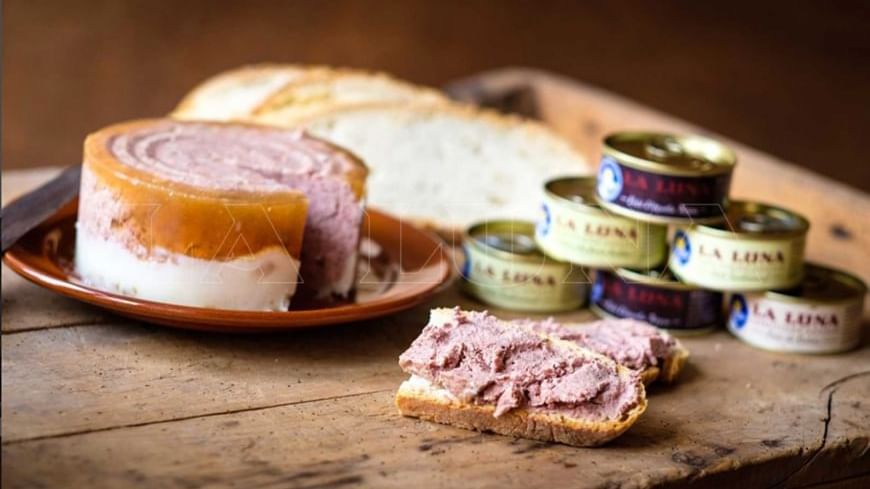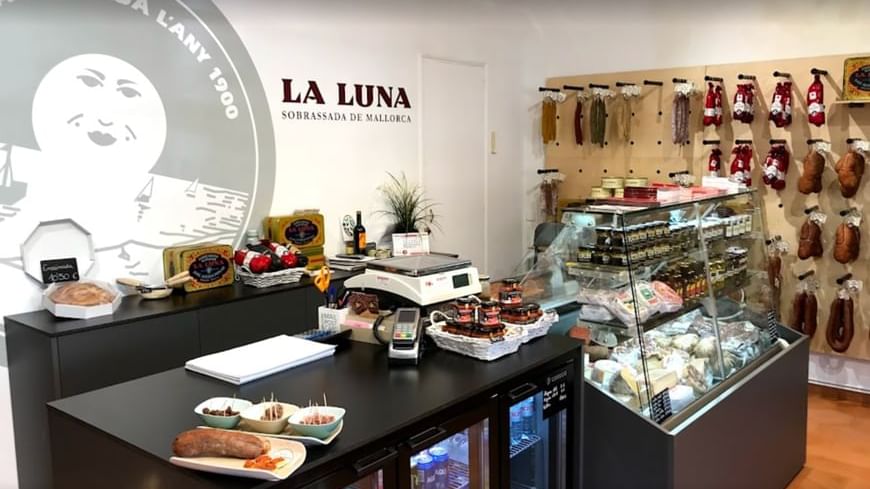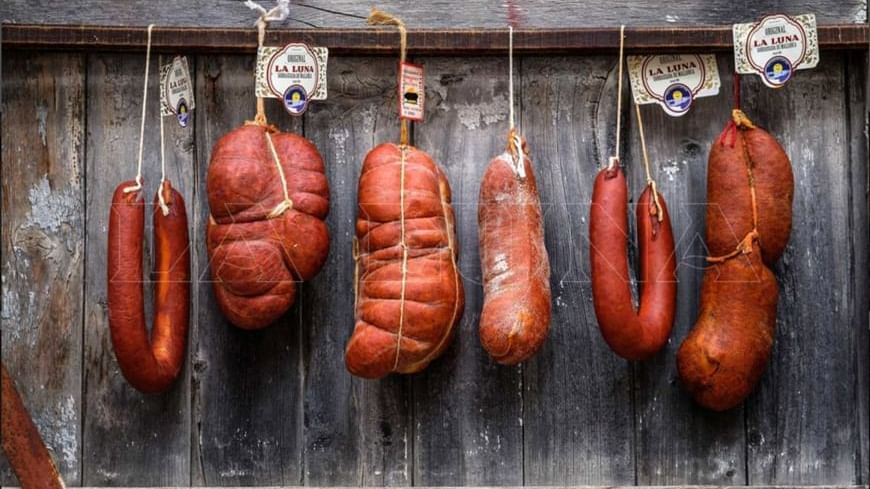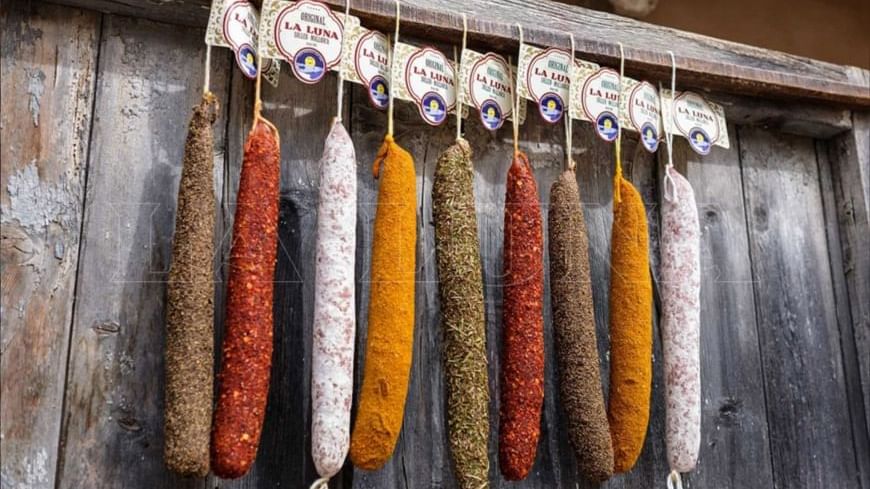 As you may already know, the Valley of Sóller is the perfect destination to enjoy an authentic Mediterranean holiday to the full. Located between the Mediterranean Sea and the Sierra de Tramuntana mountain range, and connected to Palma de Mallorca by a century-old train, this Mallorcan municipality offers an infinite number of activities and experiences to enjoy unforgettable days on our island. Beaches, coves, stone paths, hiking and cycling routes, picturesque "llogarets" and cobbled streets, and, without a doubt, the local gastronomy with its star products: Sóller oranges and Sóller prawns. However, there are other very special products full of tradition and history that are also made in Sóller: sobrassada, botifarrons, fuets and, of course, pâté. And that is why today we are going to talk about one of the oldest and most traditional sausage factories in Mallorca: La Luna sausage and artisan pâté factory.
Founded in 1900 by Don José Aguiló Pomar, the company Embutidos Aguiló, under its commercial brand La Luna, was the first company in Mallorca dedicated to the production of the Mallorcan sausage par excellence: Sobrasada. With the passing of time, this family business prospered and began to sell its products to the whole island of Mallorca, the Iberian Peninsula, North Africa, the south of France, and also in Cuba and Puerto Rico, due to the large number of Mallorcans who emigrated to these Caribbean islands during the first years of the 20th century. In the 1980s, Mr. Bartolomé Frau Oliver took over the management of the company, initiating a new stage in the factory, providing it with modern technology and totally new installations, all of which were approved at European level. This has allowed Embutidos Aguiló SL La Luna to continue offering high quality Mallorcan products thanks to its more than 100 years of experience, history and tradition in the world of Mallorcan sausage making and the most modern production and food safety technologies. In addition to offering an excellent end product, this contributes to strengthening Mallorca's gastronomic and traditional culture.
But the most interesting thing about this company is not only being able to buy their products in the local shops of the Sóller Valley, but they also offer us the chance to visit their factory, learn about the production process, see their museum and buy their products directly there at the end of the visit. A perfect visit to get to know the Mallorcan tradition at first hand and to which we can go on a pleasant stroll from the Gran Hotel Sóller thanks to its excellent location.
So we will leave the Gran Hotel Sóller in the direction of Avinguda d'Astúries, located 5 minutes' walk from the Hotel, until we reach number 4. Here we will see a large building with a maroon sign with the name La Luna. Once there, we will enter to start our visit. During the visit, we will be able to discover the oldest part of the factory, where the original machines from 1900 are in perfect working order. An unforgettable experience in which we will be able to see an exhibition of unique pieces in Mallorca. Afterwards, we will visit the newest part of the factory, where the new sausage-making machines are located. A tour that will allow us to compare how this sausage used to be and how it is made.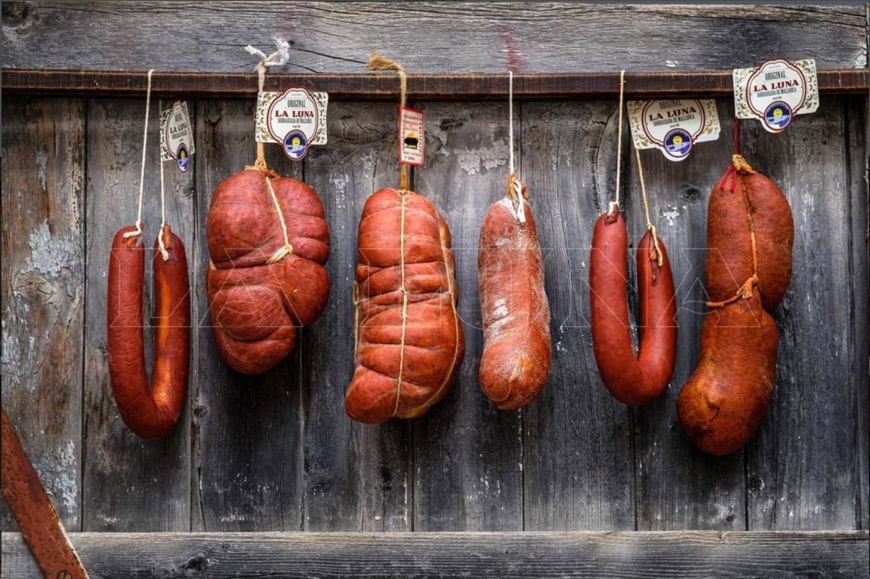 We will then continue our tour by visiting the natural drying room and the old sawmill that was used in summer to make the boxes for export. Nowadays, this place is still used to taste the different products that are produced. So, after discovering the hard artisan work that goes into making these products, it is in this place that we will be able to taste them. After the tasting, we will continue our tour until we reach the La Luna shop. A fantastic place where you can taste and buy all the products made by Embutidos Aguiló SL La Luna, as well as other local products such as extra virgin olive oil from Sóller, Mallorcan herbs, olives, cheeses and much more. Perhaps this is the place where we will have more doubts, as there are different types and sizes of each of the products that are produced. The factory produces sobrasada de Mallorca, sobrasada de Mallorca de Porc Negre, Camaiot, pork liver pâté, mushroom pâté, pâté with fine herbs, Etiqueta Negra pâté and fuets in different flavours as well as carn i xulla.
The sobrasadas are made with selected pork and the best quality paprika. And both the sobrasada and the camaiot are cured slowly and naturally until they reach the optimum point, which gives them a very special bouquet and aroma. We recommend the Porc Negre, made from native Mallorcan pigs and with a unique flavour. However, if you have any doubts, the shop will be happy to help you. As for the pâtés and fuets, you can certainly get one of each flavour, as there are different sizes and they are not excessively expensive. However, we would definitely recommend that you take a tin of the classic La Luna pâté. Made according to the original formula dating back to 1900 and with more than 100 years of history. A perfect product to enjoy the essence of Mallorcan gastronomy. Finally, as for the fuet, we recommend you buy one of carn i xulla. A typical Balearic sausage made with lean meat and pork belly, salt, black pepper and other spices. All these products stand the test of time very well, so we can take them home without worrying about their shelf life or that they will spoil along the way, as they last for several weeks and even months in the case of the pâtés. So after doing our shopping and having discovered a little piece of Mallorca's gastronomic history and the island's first Sobrasada factory, we can finish our visit by returning along Carrer Victòria 11 de Maig, which will lead us to Calle de La Luna and, from there, to Plaza Constitució, a pleasant and short walk to return to the Gran Hotel Sóller via the town's main square, a place where we can contemplate the atmosphere of the town and the Parròquia de St. Bartomeu before enjoying an afternoon stroll through the streets of Sóller, the main square of the municipality. There we can enjoy the atmosphere of the village and the parish church of St. Bartomeu before enjoying a fantastic meal from the menu of Can Blau Restaurant.
If you are staying at our hotel and would like more information about the Fábrica de Embutidos La Luna, its opening hours, products, as well as other places to discover the local gastronomy of the Sóller Valley, do not hesitate to ask our reception team, who will be delighted to help you.
IFORMATION OF INTEREST
GUIDED TOURS TIMETABLE
Monday to Friday from 10.00 a.m. to 3.00 p.m. Saturday from 10.00 a.m. to 1.00 p.m.
FACTORY SHOP OPENING HOURS
Monday to Friday from 08.00 to 16.00h Saturday from 10.00 to 13.00h

Guided tour tickets in the factory shop