The best beaches near Soller
Make the most of the day to discover some of the best coves in Mallorca: Playa d'en Repic, Port de Soller, Cala Deia, Cala Tuent and Llucalcari.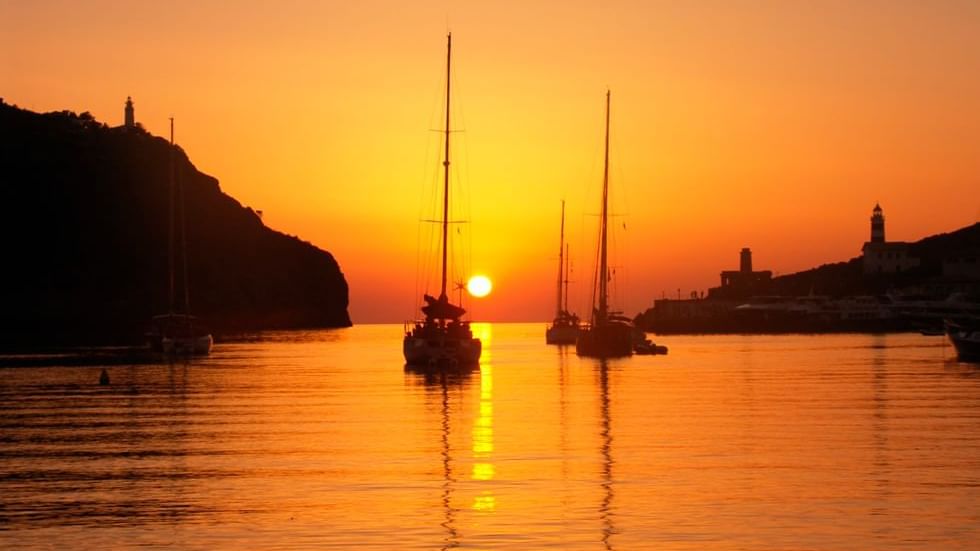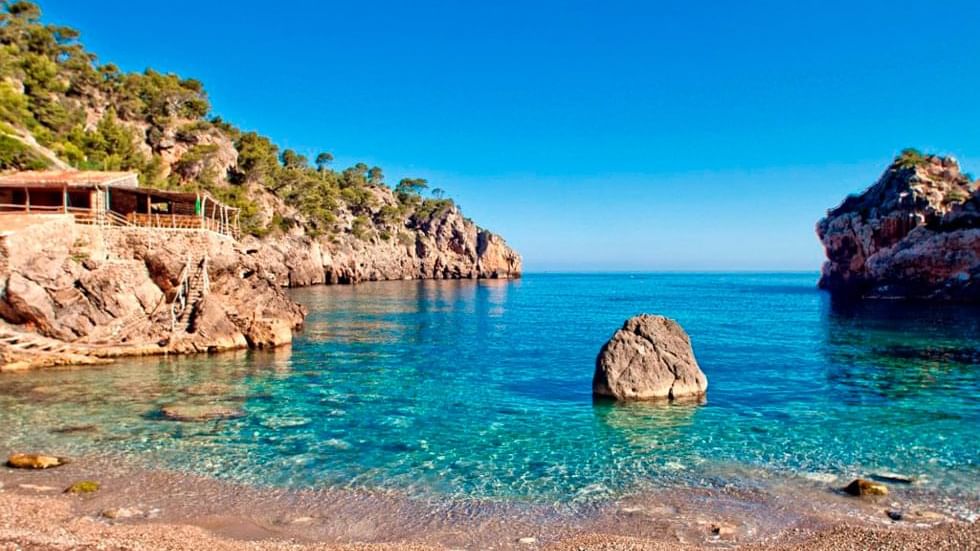 Port de Soller beaches
Repic Beach
Playa d'en Repic, 250m long, is a bay embraced by the Serra de Tramuntana mountain range, with white sand, very close to the town centre. It is very accessible as it is next to the Port de Soller promenade, and there is also a car park nearby and public transport less than 100 metres from the beach.
Playa d'en Repic offers a wide variety of water activities (such as kayak and pedal boat hire, diving, etc.) and is equipped with sun loungers, parasols and showers, making it an ideal beach for a family day out.

Port de Soller
Port de Soller is an essential place to visit, especially during the months of May, June, September and October when there are fewer visitors. Located on the coast of the Serra de Tramuntana, Port de Soller was a busy fishing port during the 18th century and has now been converted into a perfect recreational area for strolling by the sea. There are many activities available, such as, for example, a trip on one of the boats that leave from Port de Soller to Sa Calobra (a route with spectacular views that goes as far as Torrent de Pareis) or various water activities, such as diving or snorkelling.

Artificial beach
Very close to Port de Soller there is an artificial pebble beach, in the direction of the lighthouse, which is ideal if you are a snorkelling lover and are looking for a privileged enclave for diving in Mallorca. In this cove, easily accessible from the Port de Soller promenade, you can rent snorkelling equipment from Octopus Diving if you don't have your own.
In addition to boat trips, diving and spectacular views of the bay, Port de Soller offers a wide variety of restaurants and terraces to have lunch, dinner or enjoy a cocktail or a snack while enjoying the unequalled sunsets of Mallorca. One of these restaurants is Airecel, which specialises in high quality Mediterranean cuisine, the Minibar Port de Soller, very famous and frequented by the locals, and the Nautilus restaurant, where you can have a drink and enjoy the sunset on its charming terrace by the sea.

Other beaches near Soller:
Cala Deia
From Port de Soller it is possible to hire a boat to Cala Deia, one of the most beautiful pebble beaches in Mallorca, with its crystal-clear waters between cliffs in the heart of the Serra de Tramuntana mountain range.

Llucalcari Cove
The cove of Llucalcari is a small, very quiet rocky beach with very little traffic and breathtaking views of the cliffs and the sea. Situated 8 km from Soller, it can be reached by car and a 300 metre walk or by renting a boat in Port de Soller itself.

Alconasser Cove
A short distance away is Cala Alconasser, an idyllic spot with turquoise waters located between Soller and Deia, where you can stop for a bite to eat at the restaurant Bens d'Avall.

Tuent cove
Finally, if you prefer a quieter day without too much hustle and bustle, we recommend visiting Cala Tuent directly from Port de Soller, by boat or hire car.
Cala Tuent is a more secluded beach, but its surroundings are worth a visit: surrounded by mountains and pine forests, its crystal clear waters and smooth pebbles add to its natural charm. It is not a tourist beach, so it is not crowded and is ideal if you are looking for a quieter and more authentic place. It is also a perfect place for scuba diving or snorkelling, although you will need your own equipment, as the only service offered by the cove is the Mallorcan cuisine restaurant Es Vergeret.
From the Gran Hotel Soller we suggest that you get to know and visit, at least once, all these beaches near Soller, as they are ideal places to spend a quiet day with family or friends. Their unique natural environment, their wide gastronomic offer and their proximity and access from Port de Soller are just some of their attractions.
At reception we will be happy to advise you on any activity, route, transport or timetable during your stay. Do not hesitate to come and ask us any questions you may have about the access to these beaches or about the activities to do in them, we will be happy to advise you!