Excursion to Deia, Valldemossa, Sa Foradada and Llucalcari beach.
Day trip through Deia, Valldemossa, Sa Foradada, Llucalcari beach. Route through Sa Foradada viewpoint, Cala Deià and the Cartuja de Valldemossa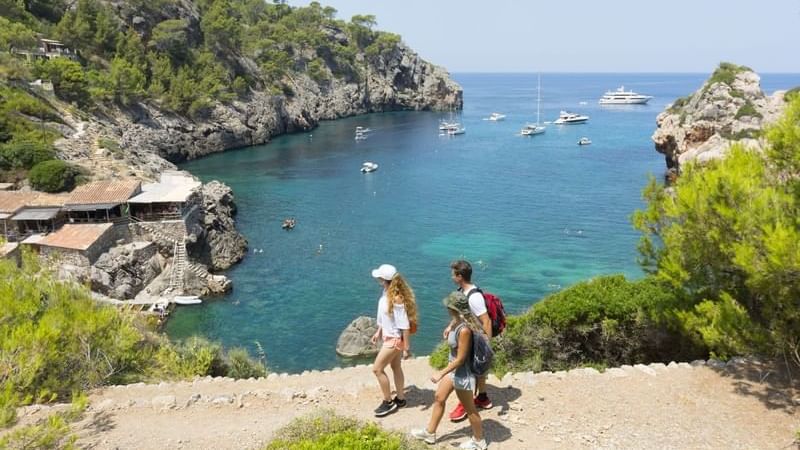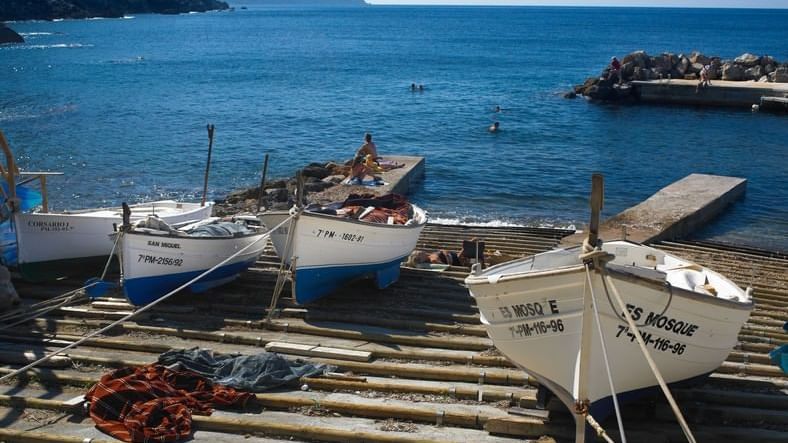 Here are some detailed suggestions to make your day in these villages unforgettable:

LLUCALCARI BEACH
Llucalcari beach is a pebble and rocky beach, idyllic and with spectacular views, but difficult to access. One of its particular bathing conditions is that it allows nudism, although it is not classified as such.
The village of Deia is one of the prettiest and most bohemian on the island. Its colourful streets, its panoramic views of the Deia cove and its village walkways, from which you can contemplate the whole landscape, make it a beautiful spot to discover.
While you stroll through the cobbled streets of Deia and contemplate its small urban gardens, we suggest a visit to the House of Robert Graves, where the famous writer found inspiration for his works, and whose stay in Deia has served as a precedent for many other artists who have come to Deia in search of beauty and inspiration since the 1960s. If you are looking for peace and quiet to invoke the muses, a visit to this little village is a must.
In addition to its numerous museums, the peninsula of Sa Foradada stands out in Deia, which can be reached on foot along a path full of viewpoints, including the Sa Foradada viewpoint, which allows you to contemplate the immensity of the Mediterranean.

DEIA COVE
Cala Deia is also an essential stop. A small, rocky beach with crystal-clear waters, it has the charming Cas Patró March restaurant (seafood and fresh fish of the highest quality). You can also consult our recommendations of restaurants in the area around Soller where you will find different suggestions of where to eat and dine in the vicinity.

VALLDEMOSSA
The village of Valldemossa is a charming corner in the heart of the Serra de Tramuntana. Situated in a beautiful valley, its cobbled streets and medieval atmosphere, as well as its rich culture and history, make Valldemossa an essential stop for any traveller.
Among many of its attractions is the Royal Charterhouse of Valldemossa, a palace that was the residence of King Sancho I of Mallorca during the 15th century and in which its neoclassical church with frescoes by Goya's brother-in-law stands out. A visit to the Valldemossa Charterhouse is very interesting given the location of the Charterhouse (right in the heart of the village) and its interior gardens (Jardines del Rey Juan Carlos), perfect for enjoying a peaceful rest.
Other places that Valldemossa has to offer are the Frédéric Chopin and George Sand Museum, an extraordinary cultural visit in which, in addition to its gallery and exhibitions, you can visit the monastery's "cell" where the artists Chopin and George Sand stayed during the three months that they lived in Mallorca in 1838.
Finally, you cannot leave without trying the famous coca de patata, a very soft and light sweet pastry, very typical of Valldemossa. Accompany it with a horchata or an ice cream in summer, you won't be disappointed!
From the Gran Hotel Soller we recommend this day trip to discover Valldemossa and its gardens, Deia and the beautiful views that inspired artists such as Robert Graves, Sa Foradada, next to the immense Mediterranean, as well as Cala Deia, a quiet cove surrounded by mountains, and Playa Llucalcari, an idyllic beach, little frequented where you can relax without worries.
At reception we will be happy to advise you if you need any information about transport (we recommend a hire car to get around the area more easily, as the bus has a limited timetable) or about any activities or places of interest you may wish to visit in these charming villages.