Visit Biniaraix, Fornalutx, Lluc Monastery and Sa Calobra
Discover Biniaraix, Fornalutx, Lluc Monastery and Sa Calobra in one day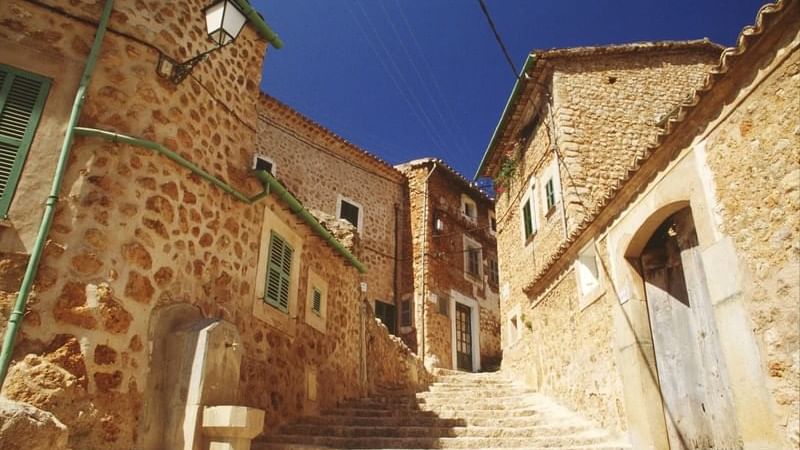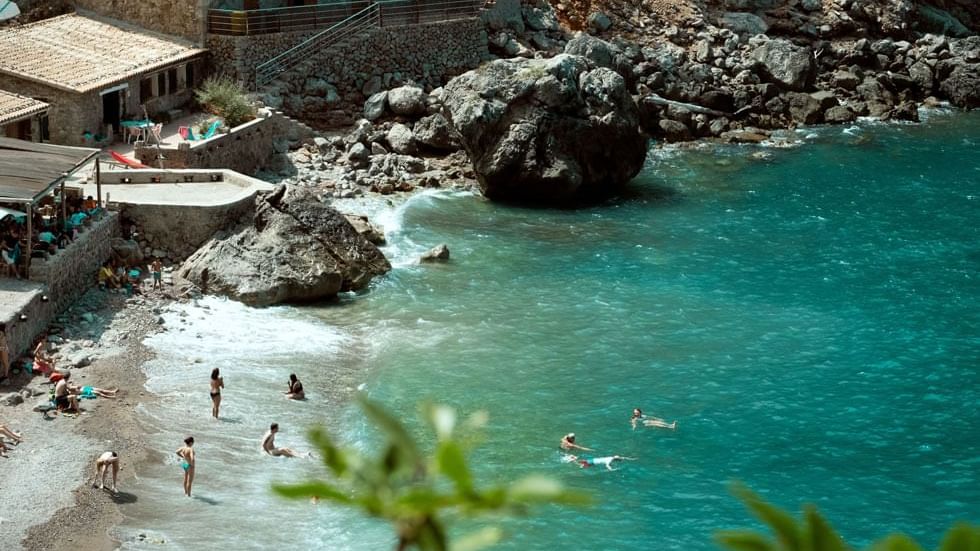 BINIARAIX AND ES BARRANC DE BINIARAIX
Biniaraix is ​​a small town or "llogaret", located in the charming Valley of Sóller. It is characterized by its beautiful green landscapes all year round, its orange groves and it also belongs to the town of Fornalutx.
Its most famous corner is el Barranc de Biniaraix, a natural canyon located at the south-eastern end of Sóller. The Barranc de Biniaraix, is one of the most famous and complete hiking routes that Sóller offers and also of the entire Serra de Tramuntana. With a duration of 4 hours and a medium difficulty, its beautiful landscapes make it the perfect route for an excursion or a day of hiking.
Fornalutx is a charming mountain town in the heart of the Sóller Valley and is considered one of the most beautiful towns in Spain. Its cobbled streets and panoramic views of the Serra de Tramuntana make it an ideal place for an express visit or excursion from Sóller.
By car, you can get there from the Ma-10 road and by bus, also from Sóller, you have to take line 212 of the TIB (Transport of the Balearic Islands). We recommend, in the case of the bus, check the hourly frequency to avoid inconveniences. At the reception of our Gran Hotel Sóller we will be happy to offer you all the information and routes necessary for you to enjoy the journey, without worries.
When it comes to eating in Fornalutx, Ca n'Antuna is one of the best options: a restaurant with Mallorcan cuisine and an extensive menu of local products.


SA CALOBRA
Sa Calobra is a set of two virgin coves, protected by impressive cliffs and crossed by Torrent de Pareis.
The first cove of Sa Calobra is only 30 meters long and is made up of pebbles and white sand. In this cove of Sa Calobra you can park and have a refreshing drink or a snack next to the beach in the charming restaurants near this small beach.
The second cove of Sa Calobra is the largest and the most remote: it is 100 meters long and is accessed through a dirt road. Its crystal clear and turquoise waters, surrounded by pure nature, will take your breath away.
If you decide to go on an excursion to this beach, it will be necessary to bring umbrellas, towels and everything you need to spend a pleasant day by the sea, as there are no sun loungers for rent nor can you do water sports that could interrupt the calm of this corner. almost secret.
How to get to Sa Calobra?
It is best to arrive by rental car, as the bus and train are not very available and the hours are short.
The road to access Sa Calobra is narrow and with many curves. For those who do not want to drive on this road, there is the fantastic alternative of arriving by sea using the blue boats that leave from Puerto de Sóller.
* Another idea for cycling lovers is to go by bicycle: the round trip from Sa Calobra is one of the most emblematic and challenging cycling routes with its 9.5 km of ascent. In the "Carrer de sa Lluna", in Sóller, you can rent a bicycle and discover the landscapes that Mallorca offers, especially in the Serra de Tramuntana.
MONASTERY OF LLUC
The Sanctuary of Santa María de Lluc (Lluc Monastery) is located in the municipality of Escorca, just 47 minutes by car from Sóller. It is one of the island's sacred pilgrimage sites since the Virgin of Lluc, the patron saint of Mallorca, lived there.
We suggest taking a walk outside the Lluc Monastery and enjoying its impressive views of the Sierra or visiting its interior, as well as the Lluc museum. For hiking enthusiasts, there are two very interesting routes to do on foot: Cometa dels Morts and Es Camell.
If they have the opportunity to be there at 1:15 p.m. they will be able to enjoy listening to "La Salve" sung by the escolanía, popularly known as Els Blauets de LLuc.
From the Gran Hotel Sóller we have suggested some proposals to discover in one day Biniaraix and its famous Barranc de Biniaraix, Fornalutx, with its beautiful cobbled streets, the Monastery of Lluc and its panoramic views of the Serra de Tramuntana and Sa Calobra, a quiet cove that can be accessed by ferry from Port de Sóller. At reception we will be happy to assist you.